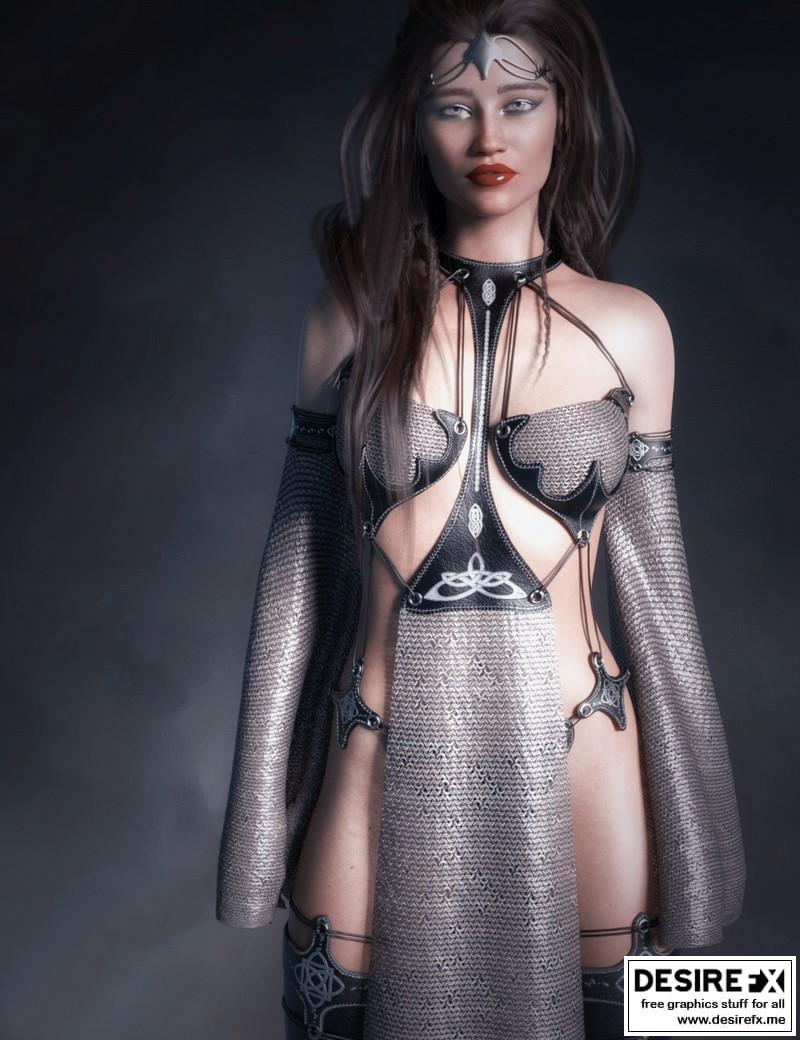 dForce CB Aumakua for Genesis 8 Female(s)
Compatible Figures: Genesis 8 Female
Compatible Software: Daz Studio 4.15, Daz to Unity Bridge, Daz to Unreal Bridge, dForce Cloth
Details
dForce Aumakua for Genesis 8 Female(s) is a fantasy inspired clothing set perfect for your warrior princess or mage.
Modular design allows for you to choose which parts you wish to use and giving you the option to use them all or combine with your existing content.
Get dForce CB Aumakua for a powerful set of clothing ready for your favorite Genesis 8 Female(s)!
What's Included and Features
dForce CB Aumakua for Genesis 8 Female(s) (.DUF)
Aumakaua !Full Outfit
Aumakaua Back Skirt

Buttock Loosen
Float Back All
Float Back Mid
Float Hem
Left Side Top In
Left Side Top Out
Right Side Top In
Right Side Top Out

Aumakaua Boots

Back Heel Left Loosen
Back Heel Right Loosen
Calf Left Loosen
Calf Right Loosen
Heel Left Back
Heel Left In
Heel Right Back
Heel Right In
Knee Left Loosen
Knee Right Loosen
Left Ties Lower Loosen
Left Ties Top Loosen
Left Top Trim Expand
PBMThighsSize
Right Ties Lower Loosen
Right Ties Top Loosen
Right Top Trim Expand
Toes Left Loosen
Toes Rigth Loosen

Aumakaua Briefs

Back Left Loosen
Back Right Loosen
Buttock Loosen
Crotch Loosen
Front Loosen
Side Left Loosen
Side Right Loosen

Aumakaua Circlet

Move Down
Move Forward
Move UP
Side Left Out
Side Right Out

Aumakaua Cups

Cup Left Loosen
Cup Right Loosen
Side left Top Out
Side Right Top Out
Top Left Inner Adjust
UnderBust Left Loosen
UnderBust Right Loosen

Aumakaua Dress Front

Back Neck Loosen
Chest Loosen
Float Forward
Hem Float Forward
Mid Float Forward
Neck Front Loosen
Neck Left Loosen
Neck Right Loosen
Stomach Loosen

Aumakaua Sleeves

Sleeve Left Expand
Sleeve Right Expand
Trim Left Expand
Trim Right Expand
Upper Left Loosen
Upper Right Loosen

Aumakaua Ties

Left Side Lower Adjust
Left Top Inner Adjust
Neck Front Loosen
Right Side Lower Adust
Right Side Top Out
Right Top Inner Adjust
Side Left Top Out
Stomach Loosen
UnderBust Left Adjust
UnderBust Right Loosen

Aumakaua Boot Pose
Supported Shapes

FBMAiko8
FBMBodybuilderDetails
FBMBodybuilderSize
FBMBodySize
FBMCharlotte8
FBMEmaciated
FBMExpandAll
FBMFitnessDetails
FBMFitnessSize
FBMMeiLin8
FBMMonique8
FBMOlympia8
FBMPearFigure
FBMStephanie8
FBMTeenJosie8Body
FBMThin
FBMVictoria8
FBMVoluptuous
PBMThighsSize
PBMBreastsCleavage
PBMBreastsDiameter
PBMBreastsSize
Some Shapes May Be Supported by Auto-follow

Material Options

Ethereal
Maiden
Royal
Sky
Terra

Textures Include

219 Texture, Bump, Displacement, Emissive, Height, Glossiness, Normal, Reflection, Roughness, Specular, and Transparency Maps (90 x 90 to 4096 x 4096)

Daz Studio Iray Material Presets (.DUF)
Notes
(Visited 76 times, 4 visits today)