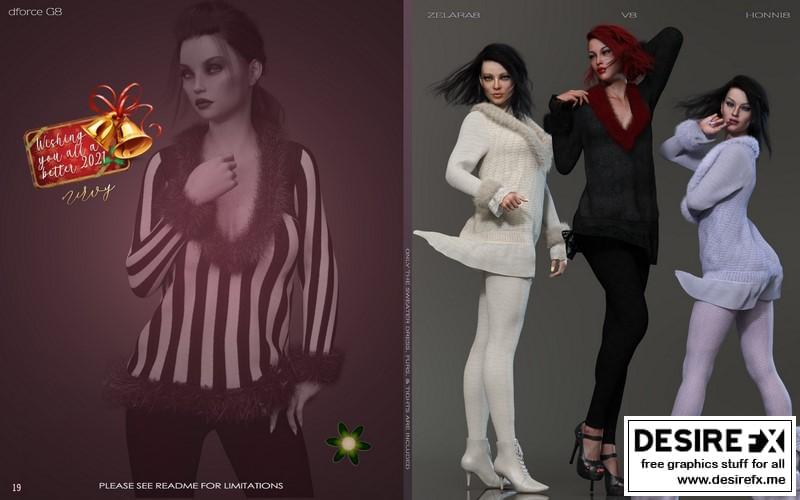 dforce Peppery2 SweaterDress Set G8F
Software:   DAZ Studio 4 With IRAY, DAZ Studio 4.9.4 (Needed for G8F/M), Daz Studio 4.10 + (required for dForce)
Base Figures:  Genesis 8 Female
Description
Let your girls feel sexy and warm with that special someone on those chilly winter days and nights.
Included:
• 1 dforce Wearable Set G8F
• 1 dforce Wearable Top Set G8F
• 1 dforce Wearable Xmas Set G8F
• 1 dforce Sweater Dress G8F
• 1 Fur Collar G8F
• 1 Fur Cuffs G8F
• 1 Fur Hip G8F
• 1 Tights G8F
•Sweater:
8 Mat Presets including variations of the same + Easy to See
1 Partial Mat Preset
4 OFF Mat Presets
•Furs:
18 Mat Presets
!Fur Mat Presets are compatible with Spicy Winter Boots, Wayward,Spicy Xmas & Sporty Chic furs.
• Tights:
14 Mat Presets including variations of the same + Easy to See
7 Transparency Mat Presets
1 OFF Mat Preset
• IRAY Material Presets only
-Sweater:
• 11 OneClickBS Morphs + Restore
• 7 OneClick DNS Morphs + Restore + Restore Trans
• 7 OneClick Wind Morphs + Restore
• Restore Dynamic + Restore all 1 Click + Restore All Morphs
• 14 Surface Presets + Default + Default Over tights
• 2 Partial Surface Presets
-Tights:
• 5 OneClickBS Morphs + Restore
• 5 OneClick DNS Morphs + Restore + Restore Trans
• Restore Dynamic + Restore all 1 Click + Restore All Morphs
• dforce ON-OFF
• 7 Surface Presets + Default + Default2
• 1 Partial Surface Preset
-FurCollar & Cuffs & Hip: Restore Dynamic
• Sweater Optimized G8F:
CTRLBodybuilder
CTRLBreastsImplants
FBM Kaylee 8 Body
FBM Mika 8 Body
FBMAiko8
FBMAlexandra8
FBMBabina8
FBMBridget8
FBMCJ8
FBMCharlotte8
FBMEva8
FBMGabriela8
FBMGirl8
FBMHeavy
FBMHonni8
FBMKala8
FBMLeisa8
FBMMonique8
FBMOlympia8
FBMPearFigure
FBMPenny8
FBMRobyn8
FBMSahira8
FBMStephanie8
FBMSydney8
FBMTasha8
FBMTeenJosie8Body
FBMVictoria8
FBMVoluptuous
FBMZelara8
PBMBreastsCleavage
PBMBreastsHeavy
PBMBreastsShape01
PBMBreastsShape02
PBMBreastsShape03
PBMBreastsShape04
PBMBreastsShape05
PBMBreastsShape06
PBMBreastsShape07
PBMBreastsShape08
PBMBreastsSize
Others will fit through AutoFollow and/or with the help of the dynamic morphs.
• Dynamic Morphs Sweater:
1CBS Back Up
1CBS Front Up
1CBS Hold Front Up
1CBS SideL Up
1CBS SideL UpMore
1CBS SideR Up
1CBS SideR UpMore
@Default
Abdomen Out-In
All Expand
Armpits Adjust
Arms Adjust
Arms Up Inject Before Simulation
Back Pull-Push
BackBottom Out-In
BackMiddleFold Soften
BackSides Pull-Push
Baggy
BottomSideL Out-In
BottomSideR Out-In
BreastL Adjust
BreastL Show
BreastL Show2
BreastR Adjust
BreastR Show
BreastR Show2
Breasts Adjust1
Breasts Adjust2
Breasts Adjust3
BreastsLarge Adjust
BreastsSideL Adjust
BreastsSideR Adjust
BreastsUnder Adjust1
BreastsUnder Adjust2
Change Ruffles1
Change Ruffles2
Chest Up-Down
CollarFront Adjust
CuffBottom Puff
Cuffs Adjust
DNSHang Over Chair+Pants
DNSHang1
DNSHang2
DNSHold
DNSHold2
DNSToFloor1
DNSToFloor2
ElbowInnerL Adjust
ElbowInnerL Adjust2
ElbowInnerR Adjust
ElbowInnerR Adjust2
ElbowL Adjust
ElbowL Adjust2
ElbowR Adjust
ElbowR Adjust2
Folds All Soften
Front Pull-Push
Neck Closer
Neck Open
Ruffle Long
RuffleBK Out-In
RuffleBack All In-Out
RuffleBack Long
RuffleCenterBack In-Out
RuffleCenterFront In-Out
RuffleCenterFront Up In
RuffleFR Out-In
RuffleFront Long
RuffleL Out-In
RuffleR Out-In
Short-Long
SideL Out-In
SideR Out-In
Sleeves Up
SleevesBottom Puff
SleevesRuffles SmoothDown
SlvRuffleTopL In-Out
SlvRuffleTopR In-Out
SlvRuffleUnderL In-Out
SlvRuffleUnderR In-Out
Wear it Short
Wide-Thin
Wind Whirlwind
Wind to Back
Wind to Front
Wind to Left
Wind to Left2
Wind to Right
Wind to Right2
• Dynamic Morphs FUR COLLAR:
Back Extend
Back Lift
Front High-Low
Front VeryHigh
Inner Wide-Tight
Left Extend
LeftShoulder Adjust
Move Back
Move Front
Move Side-Side
Outer Widen
Right Extend
RightShoulder Adjust
Up-Down
Widen-Tighten
• Dynamic Morphs FUR CUFFs:
L Move Back-Front
L Move Down Scaled
L Move Down
L Move Side-Side
L Move Up
R Move Back-Front
R Move Down Scaled
R Move Down
R Move Side-Side
R Move Up
• Dynamic Morphs FUR HIP:
Back Out-In
BackBottomMiddle In-Out
BackBottomMiddle Trim
Front Out-In
Front Out-In2
L Out-In
Move Front-Back
R Out-In
RotateBk Down
RotateFr Down
RotateL Up
RotateR Up
Side-Side
Up-Down
• Dynamic Morphs TIGHTS:
All Down
All Expand
Crotch+Thighs Tight-Loose
DNS Folded
DNS To Floor1
DNS To Floor2
DNSHang Over Chair
DNSHang
Fit AnkleBoots
Fit KneeBoots
Fit ThighBoots
KneeInnerL Out-In
KneeInnerR Out-In
Legs Tight
Pelvis Down-Up+Tight-Loose
PelvisBack Down-Up+Tight-Loose
PelvisFront Down-Up+Tight-Loose
Show Back
Sideways Down1
Sideways Down2
Sideways Down3
ThighInnerL Out-In
ThighInnerR Out-In
Tight Fit
Waist Tight
FYI: All 1ClickBS/Wind morphs are always created on G8 at Default/Body/Pose.
In the promotional images the poses are randomly selected, morphs injected into the clothing, simulated and adjustments made if required.
The complete content is shown in the promotional images above however all possible variations are not.
Please see Read me for important info and to get the best out of this product.
Rendered in DAZ Studio 4.12.1 IRAY
No touch-ups.
Only the sweater dress, furs & tights are included.
DOWNLOAD FROM HOT4SHARE.COM
DOWNLOAD FROM SYNCS.ONLINE
(Visited 37 times, 2 visits today)