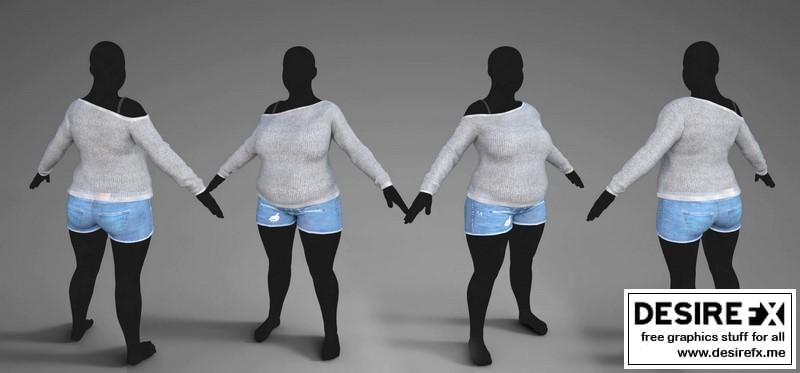 FG Modern Style Clothing
Compatible Figures: Genesis 8 Female
Compatible Software: Daz to Maya Bridge, Daz to Unity Bridge, Daz to Unreal Bridge, Daz Studio 4.15, Daz to 3ds Max Bridge, Daz to Blender Bridge, Daz to C4D Bridge
Details
FG Modern Style Clothing includes a delightfully light and airy angora sweater along with stylish shorts. With multiple color choices available, this simple yet modern outfit is sure to please!
The outfit includes numerous options allowing you to tailor each piece to fit most characters and body shapes.
FG Modern Style Clothing is perfect for a night out, going on a date, or hanging out at home with friends!
What's Included and Features
FG Modern Style Clothing (.DUF)
FG Modern Style Outfit
FG Modern Style Shorts

back down
expand all
expand waist
front down
L side down
R side down
raise bottom

FG Modern Style Top

FG Breast Expand All
FG Front Up
FG L Bottom Up
FG L Breast Expand
FG L Breast Reveal
FG L Sleeve Pull Down
FG Longer
FG R Bottom Up
FG R Breast Expand
FG R Breast Reveal
FG Top Pull Down

Supported Shapes:

Bodybuilder
BreastsImplants
BreastsNatural
Fitness
BodybuilderDetails
BodybuilderSize
BodySize
BodyTone
Charlotte8
Emaciated
FitnessDetails
FitnessSize
Heavy
Jenni8
Olympia8
PearFigure
Robyn8
Thin
Victoria8
Voluptuous
BreastsCleavage
BreastsDiameter
BreastsGone
BreastsHeavy
BreastsShape01
BreastsShape02
BreastsShape03
BreastsShape04
BreastsShape05
BreastsShape06
BreastsShape07
BreastsShape08
BreastsSize
BreastsSmall

Materials Iray

FG Modern Style Sweater Blue
FG Modern Style Sweater Grey
FG Modern Style Sweater White
FG Modern Style Sweater Yellow

Textures Include:

12 Texture Maps (2048 x 2048 to 4096 x 4096)

Daz Studio Iray Material Presets (.DUF)
Notes
(Visited 79 times, 1 visits today)