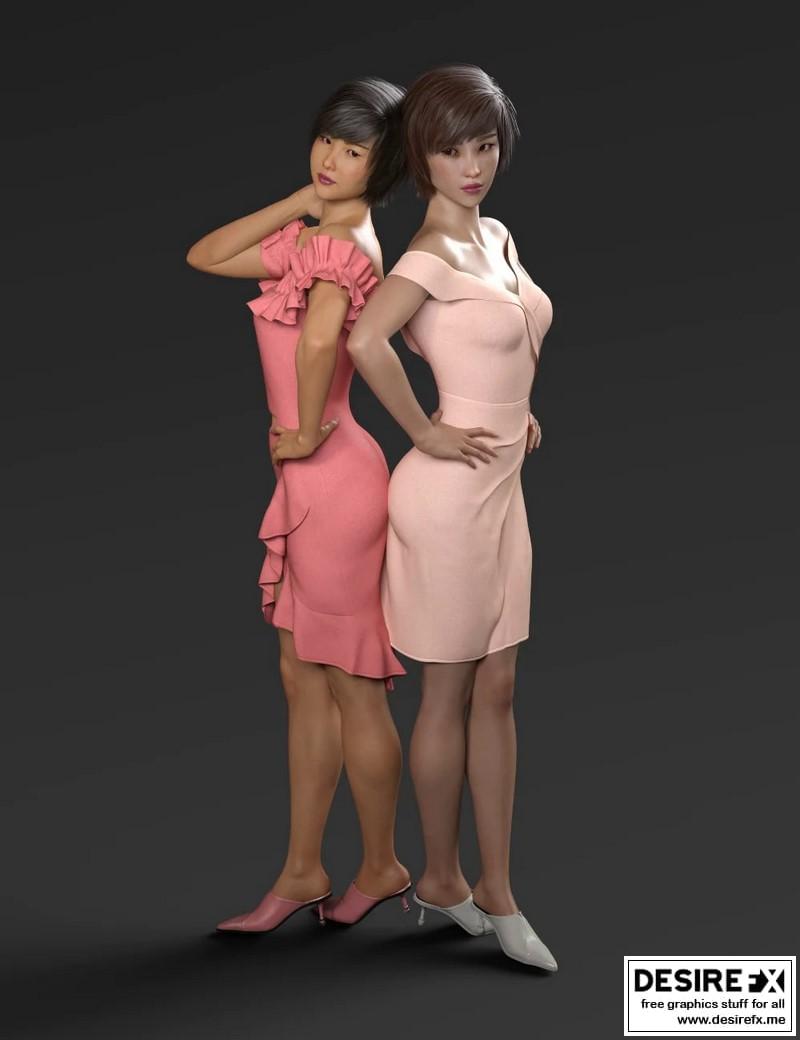 Lian and Hanako Zhao HD for Genesis 8 Female
Compatible Figures: Genesis 8 Female
Compatible Software: Daz to Blender Bridge, Daz to C4D Bridge, Daz to Maya Bridge, Daz to Unity Bridge, Daz to Unreal Bridge, Daz Studio 4.15, Daz to 3ds Max Bridge
Details
Lian and Hanako are two sisters of Asian origin with totally different personalities!
Lian is darker in skin tone and Hanako is lighter, but both are incredibly pretty and charming. These two HD characters come with amazing customizable options that make them even more versatile for your artistic vision.
Don't miss the opportunity to add Lian and Hanako Zhao HD to your scenes!
What's Included and Features
Lian and Hanako Zhao HD for Genesis 8 Female (.DUF)

Lian Zhao for Genesis 8 Female
Hanako Zhao for Genesis 8 Female
Lian and Hanako Zhao Brows for Genesis 8 Female

Shaping Presets

2 Full Apply/Remove files
2 Head Apply/Remove files
2 Body Apply/Remove files
1 Eyelashes Apply/Remove files
1 Brows Fibermesh Apply
1 Nails Aply/Remove
1 HD Details Apply/Remove files

Material Options

2 Base Skin Option
1 Eyelashes Default
20 Lian and Hanako Zhao Brows Color + Brows Default
2 Genitalia Option
1 Lian and Hanako Zhao Default Nails
1 Lian and Hanako Zhao Normal Maps Alternate ON + Default
2 Lian Zhao Translucency Options + Default
9 Lian and Hanako Zhao Eyeliner LIE
12 Lian and Hanako Zhao Eyeshadows LIE Options + 2 Natural Face + 3 Special Glitter for Eyeshadows 10, 11 y 12 + Glitter Remove
9 Lian and Hanako Zhao Eyes Color + Eyes Default + Thin Walled ON/OFF
2 Lara Translucency Options + Translucency Default
6 Lian and Hanako Zhao Glitter for Face Options + 6 Glitter for Face Color + Glitter for Face Remove
6 Lian and Hanako Zhao Glitter for Lips Options + 6 Glitter for Lips Color + Glitter for Face Remove
12 Lian and Hanako Zhao Lips Colors Options + 2 Natural Lips
12 Lian and Hanako Zhao Color Nails + Glossy Apply/Remove + Metallic Apply/Remove + Lian Hanako Natural Nails

Textures Includes:

131 Textures, Bump, Specular, Displacement, Normals and Transparency (1500 x 1500 up to 4096 x 4096)

Daz Studio Iray Material Presets (.DUF)
Notes
(Visited 195 times, 1 visits today)