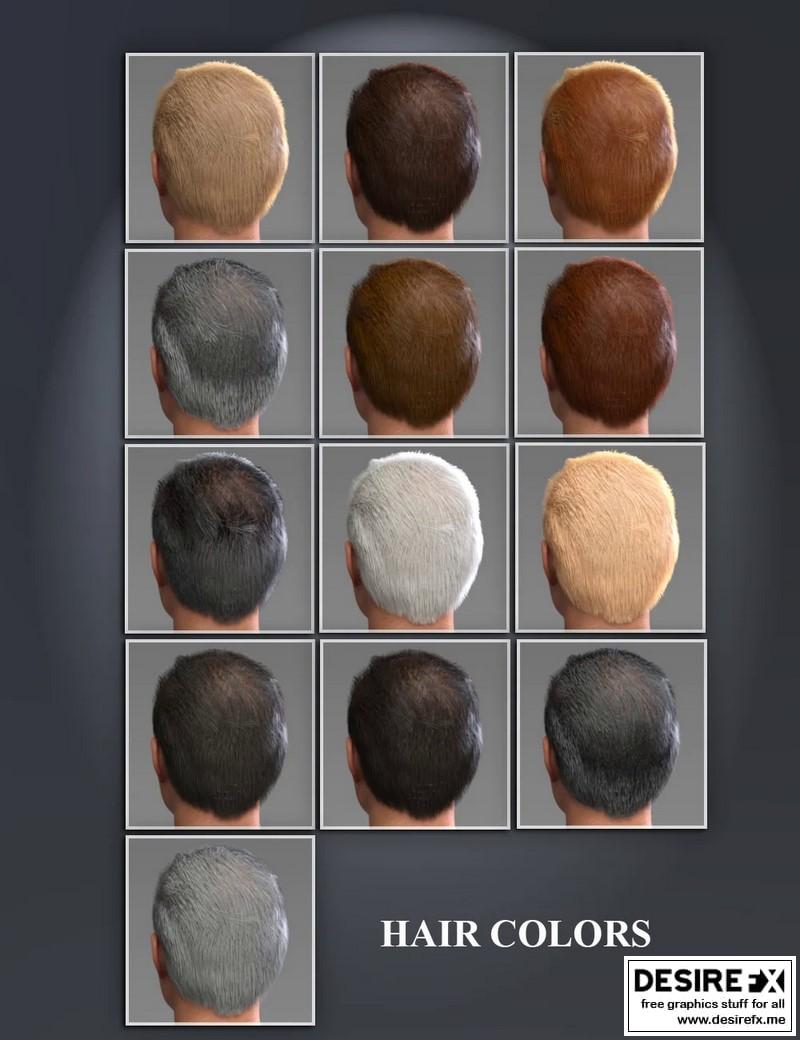 Mr Banks Hair Layers for Genesis 8 Male
Compatible Figures: Genesis 8 Male, Genesis 8.1 Male
Compatible Software: Daz to Blender Bridge, Daz to C4D Bridge, Daz to Maya Bridge, Daz to Unity Bridge, Daz to Unreal Bridge, Daz Studio 4.15, Daz to 3ds Max Bridge
Details
Create your own hairstyle! This product consists of a series of hair layers that can be combined to create different men's hairstyles. Options have been included to show baldness at the top, temples, and crown of the head, as well as receding hairlines.
To create a custom hairstyle, you just need to add a provided skull cap, selecting it, and adding your preferred hair layers. When you finish adding the layers, select all of them, and apply color using the Shaders presets provided. Use a single color for all layers or enjoy applying different colors on the different layers. These presets also allow you to adjust the translucency and opacity of each layer. Hair Layer morphs provided to allow further customization of the hairstyles, allowing you to change the thickness, length, and direction of the hair fibers.
For your convenience, 12 pre-made hairstyles are also included and 12 hierarchical material presets for each pre-made style.
What's Included and Features
This Bundle Includes:

Mr Banks Hair Layers for Genesis 8 Male (DUF):
TXMB Base Skull Cap – Bald
TXMB Base Skull Cap – Hair
TXMB Base Skull Cap – Partial Bald
TXMB Hair Back 1

ExpandAll
Back 1 Thin-Thick

TXMB Hair Back 2

ExpandAll
Back 2 Thin-Thick

TXMB Hair Back 3

ExpandAll
Back 3 Thin-Thick

TXMB Hair Sideburns 1

ExpandAll
Sideburns 1 Longer Hair
Sideburns 1 Comb Back

TXMB Hair Sideburns 2

ExpandAll
Sideburns 2 Comb BackDown
Sideburns 2 Thin-Thick

TXMB Hair SidesBack 1

ExpandAll
SidesBack 1 Longer Hair
SidesBack 1 Thin-Thick

TXMB Hair SidesBack 2

ExpandAll
SidesBack 2 Thin-Thick

TXMB Hair SidesBack 3

ExpandAll
SidesBack 3 Hair Thin-Thick
SidesBack 3 Symetric-Asymetric Fringe

TXMB Hair SidesBack 4

ExpandAll
SidesBack 4 Thin-Thick

TXMB Hair Top 1

ExpandAll
Top 1 Thin-Thick

TXMB Hair Top 2

ExpandAll
Top 2 Thin-Thick

TXMB Hair Top 3

ExpandAll
Top 3 Thin-Thick

TXMB Hair Top 4

ExpandAll
Top 4 Shorter Hair
Top 4 Longer Hair
Top 4 Thin-Thick

TXMB Hair Top 5

ExpandAll
Top 5 Thin-Thick

TXMB Preset – Style 01
TXMB Preset – Style 02
TXMB Preset – Style 03
TXMB Preset – Style 04
TXMB Preset – Style 05
TXMB Preset – Style 06
TXMB Preset – Style 07
TXMB Preset – Style 08
TXMB Preset – Style 09
TXMB Preset – Style 10
TXMB Preset – Style 11
TXMB Preset – Style 12
Supported Shapes:

Some Shapes may be Supported in Daz Studio by Auto-Follow

Materials:

Skull Cap Bald
Skull Cap Hide
Skull Cap
Hierarchical Ash Blond Material for Each Style
Hierarchical Black DK
Hierarchical Black
Hierarchical Blond
Hierarchical Brown DK
Hierarchical Brown
Hierarchical Gray DK
Hierarchical Gray
Hierarchical Red DK
Hierarchical Red
Hierarchical Salt-n-Pepper
Hierarchical White

Shaders:

TXMB Ash Blond
TXMB Black DK
TXMB Black
TXMB Blond
TXMB Brown DK
TXMB Brown
TXMB Gray DK
TXMB Gray
TXMB Red DK
TXMB Red
TXMB Salt-n-Pepper Alt
TXMB Salt-n-Pepper
TXMB White
TXMB x Opacity 0
TXMB x Opacity 100
TXMB x Opacity 40
TXMB x Opacity 60
TXMB x Opacity 80
TXMB x Skull Cap Hair Mask 1
TXMB x Skull Cap Hair Mask 2
TXMB xTransL 0
TXMB xTransL 100
TXMB xTransL 20
TXMB xTransL 40
TXMB xTransL 60
TXMB xTransL 80
TXMB xTransL Map ADD
TXMB xTransL Map REM

Textures Include:

8 Diffuse, Bump, Transparency and Translucency Maps (512 x 512 to 2048 x 2048)

Daz Studio Iray Material Presets (DUF)
Daz Studio Iray Shader Presets (DUF)
Notes
(Visited 82 times, 1 visits today)