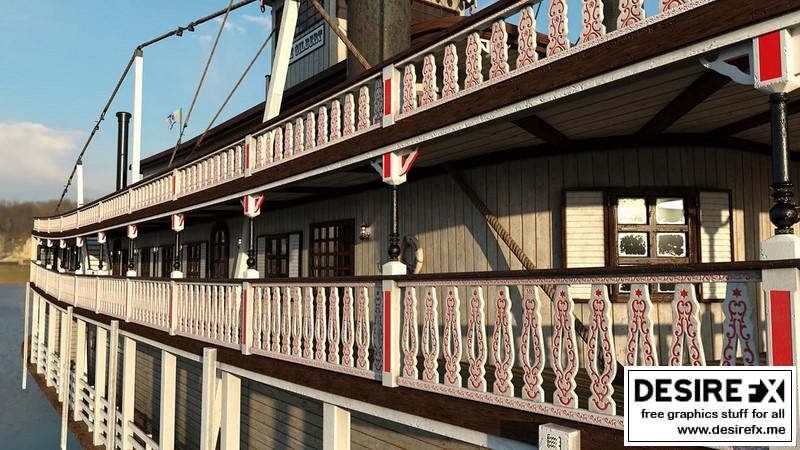 MSRB
Compatible Software: Daz to Blender Bridge, Daz to C4D Bridge, Daz to Maya Bridge, Daz to Unity Bridge, Daz to Unreal Bridge, Daz Studio 4.15, Daz to 3ds Max Bridge
Details
In the early 19th century, paddle wheels were the predominant way of propulsion for steam-powered boats. Today, cruise the legendary Mississippi River aboard the Noela Gilbert and enjoy boating and river living!
The MSRB is a 65 meter long Mississippi Steamer River Paddle Boat (MSRB) designed faithfully from historical models and plans. In this model the cranes, the shutters, the doors, the wheel, the rudder and more are movable and it is also possible to light the boat according a deck scheme.
Two set of textures are provided : one High Definition for the close rendering and a Very Low Definition for the general entire boat rendering and to feature the MSRB in the background of your renders.
Get the MSRB for your historical, river, paddleboat and old-fashioned scenes!
What's Included and Features
MSRB HD Preset (.DUF)
MSRB VLD Preset (.DUF)
For both High Definition and Very Low Definition:

MSRB Accessories
MSRB Bag
02 MSRB Barriers
MSRB Box
02 MSRB Cabins
MSRB Deck
MSRB Fire
02 MSRB Floors
MSRB Funnel
03 MSRB Housings
MSRB Hull
MSRB Light
MSRB Main Bridges
MSRB Piot House
MSRB Power Command
MSRB Wheel
MSRB Wood

Actors Controls and Morphs:

Move the Bell
Park Left Bridge
Park Right Bridge
Close All Shutters
Close All Left Shutters
Close All Right Shutters
Close Left/Right Shutter 01 to 36
Open All Left Doors
Open All Right Doors
Open Left/Right Door 01 to 03
Move the Wheel
Turn Pilot Wheel
Move the Rudder
Open Pilot house Door

Material Presets:

MSRB Box No Glass
MSRB Box
External Lights Off/On
Housing 1 Lights Off/On
Housing 2 Lights Off/On
Housing 3 Lights Off/On
Pilot House Light Off/On
Projector Light Off/On

Daz Studio Iray Material Presets (.DUF)
Textures Include:

1122 Textures, Base color, Metallic, Normal, Opacity, and Roughness Maps (512 x 512 to 4096 x 4096)
Notes
(Visited 94 times, 1 visits today)