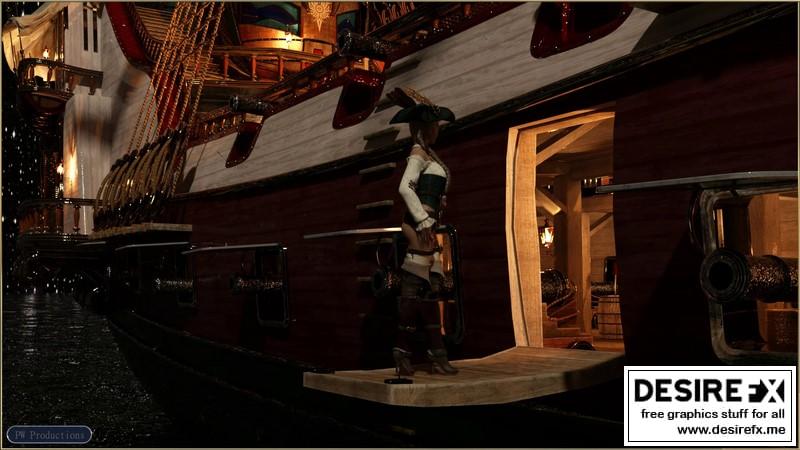 PW Pirate Ship Poseidon
Compatible Software: Daz to Unity Bridge, Daz to Unreal Bridge, Daz Studio 4.15, Daz to 3ds Max Bridge, Daz to Blender Bridge, Daz to C4D Bridge, Daz to Maya Bridge
Details
The Pirate ship Poseidon features spectacular design outside and inside.
This multi-leveled 3d model of a detailed, customizable pirate ship comes with numerous material sets for creating new looks. The rolled-up sails are included so you can switch formations from a full sail, half sail, or laying in the harbor.
This Pirate ship Poseidon is fully articulated. It is easy to remove parts you don't need in the scene.
Light material sets are included for the lanterns to create variation in the atmosphere!
Claim the seven seas for yourself with this amazing ship!
What's Included and Features
PW Pirate Ship Poseidon: (.DUF)

PW Pirate Ship Poseidon Full
PW Pirate Ship Poseidon no cannons
16 Cameras

Props:

PW PSP Barrel With Scrubbers
PW PSP Barrel
PW PSP Candle Big
PW PSP Cannon Ball
PW PSP Cannon
PW PSP Cannons All
PW PSP Captains Chair
PW PSP Captains Table
PW PSP Latern Single
PW PSP Scrubber
PW PSP Ship Bell

Materials:

03 PW PSP Style Full
03 PW PSP Sails Colors
PW PSP Body Black Red Only
PW PSP Body White Red Only
PW PSP Captain Hut Body Black Red Only
PW PSP Captain Hut Body White Red Only
PW PSP Deck Main Wet/Dry
PW PSP Hull Floor Wet/Dry
PW PSP Captains Hut Floors Wet/Dry
03 PW PSP Window Colors
03 PW PSP Captainshut Door Top Colors
03 PW PSP Captainshut Roof Window Colors
03 PW PSP Curtain Captains Hut Colors
02 PW PSP Curtain Colors
03 PW PSP Helm Styles
03 PW PSP Helm Window Colors
PW PSP Latern Off/Low/Bright

Textures Include:

587 Texture, Bump, Metallic, Normal, and Transparency Maps (52 x 40 to 4096 x 4096)

Daz Studio Iray Material Presets (.DUF)
Notes
(Visited 240 times, 1 visits today)